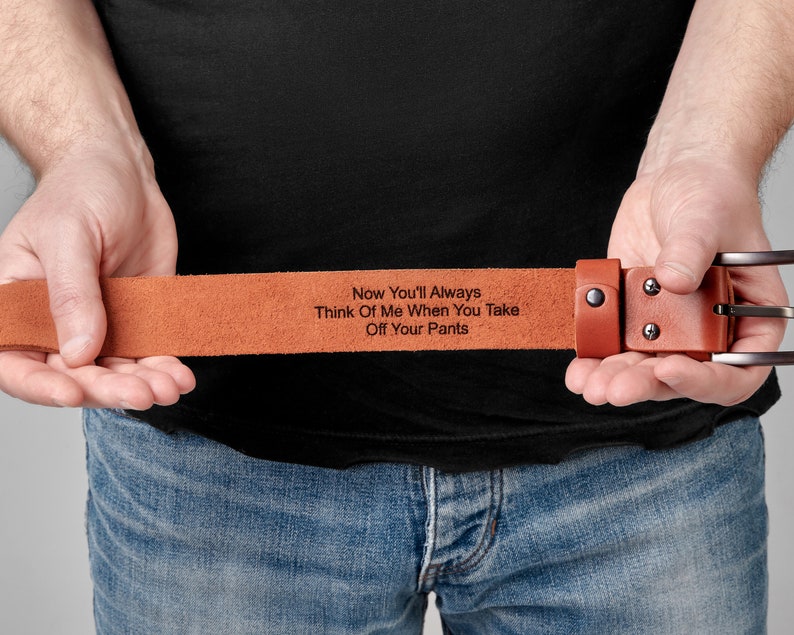 A custom personalized leather belt is a useful and simple gift for him. And "Now You'll Think Of Me" is the most popular secret message to engrave on a custom leather belt. The whole message is "Now you'll always think of me when you take off your pants".
Width: 1.5 inches (38 mm)
Thickness: 0.15 inches (4 mm)
You can customize the length of the belt from 30 inches up to 48 inches (122 cm)
Black and Brown Custom Leather Belt
You can add initials to the front side, on the loop, and a quote or secret message inside to make it a 100% special gift! Inside messages can be up to 5 lines, about 4-5 words per line
Are you looking for a fun and creative gift for him? Engraving is the perfect way to make your gift personal and special. One of the most frequently asked questions about personalized leather gifts is "What should I engrave on this?"
Here is a little helpful inspiration for you. All relationships need a bit of humor. If you stress too much about what to engrave on a custom leather belt for him just look at this secret message: "Now you'll always think of me when you take off your pants"
This funny and cute secret message inside a belt captures the special feeling and all the crazy emotions of falling in love.
Promising reviews:
The belts were great! Not only this, but the product arrived on time and was in awesome condition. He has received several compliments and they are great quality. The vendor was easy to work with and quick to respond. Recommend for anyone.
The seller was very helpful, and friendly! I received my order a lot quicker than expected, and it is wonderful quality! I cannot wait to give it to my husband for our anniversary next week.
The belts are beautiful! They came in sooner than expected for a last minute wedding gift.
I ordered this as a gift for a very close friend and was so happy with both the service and the product! The message I asked for on the belt looks great and the actual belt seems like it is good quality and will hopefully last for a long time.
I love this! I bought it for our third "the leather" wedding anniversary and it was perfect! Would 100% recommend!
My husband LOVED this belt! The seller was polite and very helpful answering the questions and responded in a very timely manner.